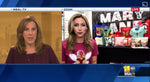 Route One Apparel & WJZ - Makers Shop Grand Opening, May 8, 2021
Owner of Route One Apparel, Ali Von Paris joins WBAL11 to show off their new Cicada Brood X influenced products and announces the Makers Pop Up Shop Grand Opening where they will have their Cicada inspired gear along with other favorites. 
You can watch the video here: 
Watch the full video on WBAL11 by clicking here.
Route One Apparel's retail display at the Makers of Maryland Pop Up Shop.